Genesis 3:8,9
Then the man and his wife heard the sound of the

Lord

God as he was walking in the garden in the cool of the day, and they hid from the

Lord

God among the trees of the garden.

But the

Lord

God called to the man, "Where are you?"
The above verse seems to paint a picture of what God's relationship with man must have been like before the fall. God walked in the garden. If Adam and Eve heard him, and hid, then that would indicate that if they had not sinned against God, instead of hiding, they very likely would have joined him. God obviously cared that they were missing from his fellowship, otherwise why woud he have asked them: "Where are you?" (of course he already knew where they were, and what they had done!..He knew this would happen before He created them.)
Right away, we see how sin separated Man from the presence of his Creator. The relationship was to suddenly become a long distance one at best. It may be easy for us to imagine how Adam and Eve felt about losing their intimacy with the Lord, but have you ever imagined how God felt?
First, let's take a look at why God created man in the first place...
Ephesians 1:3-6
Praise be to the God and Father of our Lord Jesus Christ, who has blessed us in the heavenly realms with every spiritual blessing in Christ.

For he chose us

in him before the creation of the world

to be holy and blameless

in his sight. In love

he

predestined us for adoption to sonship through Jesus Christ, in accordance with his pleasure

and will—to the praise of his glorious grace,

which he has freely given us in the One he loves.
Lets take a closer look at this scripture for a moment...
He has blessed us in the heavenly realms with every spiritual blessing IN CHRIST. For he chose us IN HIM before the creation of the world to be HOLY and BLAMELESS in his sight.
From the very beginning God created us (our spirits) to be blessed IN CHRIST, to be seen as holy and blameless IN CHRIST, and to become (adopted) sons THROUGH CHRIST!
in accordance with his pleasure and will~to the praise of his glorious grace, which he has freely given us IN THE ONE HE LOVES. (CHRIST)
So God, before he ever created one thing here on earth, predestined us to be spiritually blessed with every spiritual gift, to be holy and blameless, and to be his adopted sons ~IN CHRIST~ Remember, Adam's body had not even been formed yet, and Jesus had never been born, nor died on the cross, nor rose from that death yet.( though as part of the Godhead, He was always with God)..The earth was still void and without form; yet God had already chosen, and blessed, sanctified, and adopted us as sons through the One whom He loves. His only begotten Son~ JESUS.
So, God creates a body for man, breaths life into that body, making man a living soul. At this point, the spirit joins the body.
The man and woman walk in fellowship with God in the garden. God enjoys this..after all, he made them for His pleasure. But, God knows he is not at all finished with man yet. He knows they are only a shadow of what they are to become.
He knows that there must be a time of darkness, a time of separation and trial that they must endure alone. Of course, He knows that there will be men and women who will seek Him and cry out to Him, who will love Him enough that they will try very hard to please Him through keeping His laws, ( the old covenant) and keeping His commandments. He will hear their cries and help them. He will find ways in which to communicate with them again, but it will not be the same as this....at least not for a very long time. Someday, He knows, His fellowship with man will be even better than it is now...it will be perfect and complete. Complete through HIS SON!
And the

Lord

God said, "The man has now become like one of us, knowing good and evil. He must not be allowed to reach out his hand and take also from the tree of life and eat, and live forever."

23

So the

Lord

God banished him from the Garden of Eden to work the ground from which he had been taken.

24

After he drove the man out, he placed on the east side of the Garden of Eden cherubim and a flaming sword flashing back and forth to guard the way to the tree of life.
(Genesis 3:22-24)
At this point, God knows that many of the living souls will be lost. Many will continue to follow the devil, many will forget their Creator, they will die because of sin. The trials of life will prove to be too much for most to bear, and they will curse their God, and invent new gods. They will give praise and glory to their own gods...the praise and glory that belongs to their Creator only! His heart breaks, but it is not the first time; After all, He had to cast Lucifer and one third of His angels from heaven before this. Now Adam and Eve are cast from the garden, from His fellowship. He knows it will not be the last time His heart gets broken either...
Fast forward....(new relationship)
And I will ask the Father, and he will give you another Counselor to be with you forever— the Spirit of truth. The world cannot accept him, because it neither sees him nor knows him. But you know him, for he lives with you and will be

in you. I will not leave you as orphans; I will come to you. Before long, the world will not see me anymore, but you will see me. Because I live, you also will live. On that day you will realize that I am in my Father, and you are in me, and I am in you.
(John 14:16-20)



"But the Comforter, which is the Holy Ghost, whom the Father will send in my name, he shall teach you all things, and bring all things to your remembrance, whatsoever I have said unto you."


(John 14:26)
"When the Spirit of truth comes, he will guide you into all the truth, for he will not speak on his own authority, but whatever he hears he will speak, and he will declare to you the things that are to come. He will glorify me, for he will take what is mine and declare it to you. All that the Father has is mine; therefore I said that he will take what is mine and declare it to you"




(John 16:13-15)
This is Jesus, After His resurrection, speaking to His followers about the gift they are about to recieve, given in His name. The promise of the Holy Spirit. This gift will allow them to once again fellowship with God...through Him.
"You, however, are controlled not by the sinful nature but by the Spirit, if the Spirit of God lives in you. And if anyone does not have the Spirit of Christ, he does not belong to Christ. But if Christ is in you, your body is dead because of sin, yet your spirit is alive because of righteousness. And if the Spirit of him who raised Jesus from the dead is living in you, he who raised Christ from the dead will also give life to your mortal bodies through his Spirit, who lives in you."

(Romans 8:5-11)
"For if you live according to the sinful nature, you will die; but if by the Spirit you put to death the misdeeds of the body, you will live, because those who are led by the Spirit of God are sons of God. For you did not receive a spirit that makes you a slave again to fear, but you received the Spirit of sonship. And by him we cry, "Abba, Father." The Spirit himself testifies with our spirit that we are God's children"
(Romans 8:13-16)
"In the same way, the Spirit helps us in our weakness. We do not know what we ought to pray for, but the Spirit himself intercedes for us with groans that words cannot express. And he who searches our hearts knows the mind of the Spirit, because the Spirit intercedes for the saints in accordance with God's will"
(Romans 8:26-27)
"For there are three that bear record in heaven, the Father, the Word, and the Holy Ghost: and these three are one."
(1 John 5:7 )
Sometime in the future....
And just as we have borne the image of the earthly man, so shall we bear the image of the heavenly man.
I declare to you, brothers and sisters, that flesh and blood cannot inherit the kingdom of God, nor does the perishable inherit the imperishable. Listen, I tell you a mystery: We will not all sleep, but we will all be changed— in a flash, in the twinkling of an eye, at the last trumpet. For the trumpet will sound, the dead will be raised imperishable, and we will be changed. ( 1cor.15:50-52)


( 1 Thes. 4:13 -18)
Brothers and sisters, we do not want you to be uninformed about those who sleep in death, so that you do not grieve like the rest of mankind, who have no hope.

For we believe that Jesus died and rose again, and so we believe that God will bring with Jesus those who have fallen asleep in him.

According to the Lord's word, we tell you that we who are still alive, who are left until the coming of the Lord, will certainly not precede those who have fallen asleep.

For the Lord himself will come down from heaven, with a loud command, with the voice of the archangel and with the trumpet call of God, and the dead in Christ will rise first.

After that, we who are still alive and are left will be caught up together with them in the clouds to meet the Lord in the air. And so we will be with the Lord forever.

Therefore encourage one another with these words.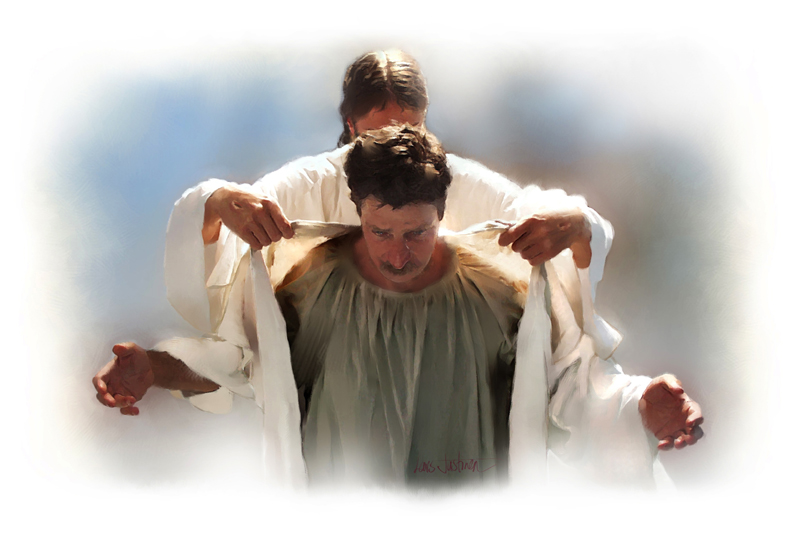 Now... there is a picture of perfect fellowship between man and God...This is what God made us for!
Here I am! I stand at the door and knock. If anyone hears my voice and opens the door, I will come in and eat with him, and he with me

.